News
Pawhuska
Posted: Aug 14, 2014 9:35 AMUpdated: Aug 14, 2014 9:35 AM
Pawhuska's National Indian Taco Championship Coming Soon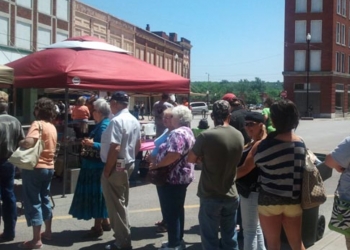 Colton Scott
Fall isn't too far away, and that means that the 10th annual National Indian Taco Championship is coming up, too.
This year, it'll be happening on October 4, and it will include freshly cooked Indian tacos, vendors and traders, competitions, music, American Indian dancing and a variety of entertainment.
Organizers are hoping new vendors and competitions will bring in huge crowds from 10 a.m. until 4 p.m. Admission for the event is free and will be held in downtown Pawhuska.
"We are excited this year as the championship will be our 10th annual," chamber director Mike McCartney said. "It's $1,500 - winner take all."
Contestants will be selling tacos to the public, and for $5 visitors will have the chance to help judge the Indian tacos. Judging begins at 10 a.m., and winners are announced between 3 and 4 p.m.
They are also going to have mini train rides and pony rides for the kids, and vendors are offering snow cones, baked goods, Native American beadwork, art work, jewelry and a whole lot more.
Sponsors for this year's event include the Pawhuska Chamber of Commerce, Osage Casino, and Osage County Tourism.
For more information about the event and for contestant inquiries, contact the Pawhuska Chamber of Commerce at 918.287.1208 or www.pawhuskachamber.com.
« Back to News