Wedding & Engagements
Congratulations on your Engagement or Wedding! We would LOVE to have you submit information to be published on our website. Simply click here: Engagement Wedding You may also submit a picture too! (We retain the right to edit information.)

We also invite you to the Annual Spring & Bridal Fashion Show on Saturday, February 26 at the Hilton Garden Inn, Bartlesville, from 10-2. It's FREE - however, you may pick up tickets at participating businesses for wonderful Door Prizes.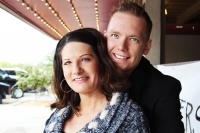 Wedding
Tammy Williams - Jeremiah Vick
Date:
2013-12-07
Mr. and Mrs. Ron and Penny Williams from Ochelata are happy to announce that their daughter Tammy Williams will wed Mr. Jeremiah Vick, the son of Cheri Faulks from Springdale, AR. Miss Williams is a graduate of Caney Valley High School, and Mr. Vick is a graduate from Bartlesville High School. Both are dedicated workers in the medical field - She works as a Pharmacy Technician at Tulsa Cancer Institute of Bartlesville, and he works as a Medical Laboratory Technician at Jane Phillips Medical Center. The happy couple were introduced thru a mutual coworker, and they enjoyed their first date at 2 Sisters Pub & Grill. Hours were spent at the restaurant that night. The bride and groom extend a joyous welcome to friends of Bartlesville. The wedding ceremony and reception will be at Bartlesville Southern Baptist Church on Nowata Road. In lieu of gifts, the couple request gift certificates from Spears Travel of Bartlesville for their romantic honeymoon to Paris, France.