Dog GONE
Dog Gone is heard on each of our stations daily. When we receive an announcement, we air it for at least 10 days before discarding it. If your animal is lost or found within that time period, please let us know, so we will discontinue airing the announcement. Click HERE to submit an announcement. If your animal has been found, please contact us at (918) 336-1001 or email sharon@bartlesvilleradio.com as soon as possible so we can remove it from our list. We retain the right to edit any postings.
Here are links to local websites: Washington County SPCA www.wcspca.org and ARF www.arfok.org
Found
Species: Dog
Sex: Male
Collar: Yes
Color: Brindle
Breed: Pit Bull mix
Area Found: 12th & Johnstone
Contact: Rita
Phone: 918-440-1452
Date: 2018-10-18
Time: morning
Brindle Pit Bull mix with short fur wearing a dark collar with spikes found on 12th & Johnstone. Call Rita Brown at 918-440-1452 if this is your dog.
Found
Species: Dog
Sex: Male
Collar: No
Color: black and white
Breed: mixed
Area Found: Hillcrest Heights
Contact: n/a
Phone: n/a
Email: david@bartlesvilleradio.com
Date: 2018-10-13
Time: noon
Young black and white dog with no collar in Hillcrest Heights. Very shy
2 Dogs - Found
Species: Dog
Sex: Male
Collar: Yes
Breed: Mix Breed
Area Found: Robinwood Park
Contact: Franco
Phone: 918-815-4350
Date: 2018-10-12
Time: morning
Female German Shepherd mix and a bushy male mix breed dog roaming in Robinwood Park and heading towards Frank Phillips.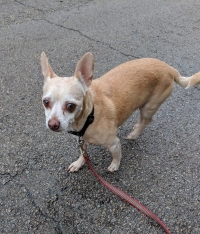 Found
Species: Dog
Sex: Male
Collar: Yes
Color: light tan
Breed: chihuaha mix
Area Found: Bartlesville High School
Contact: SPCA
Phone: 918- 440-1303
Email: celestecleary@gmail.com
Date: 2018-10-08
Time: 10:00pm
I found a light tan chihuaha mix on Shawnee near Hillcrest by Bartlesville High School. Collar but no tags. I took it in to the SPCA Tuesday morning.