Dog GONE
Dog Gone is heard on each of our stations daily. When we receive an announcement, we air it for at least 10 days before discarding it. If your animal is lost or found within that time period, please let us know, so we will discontinue airing the announcement. Click HERE to submit an announcement. If your animal has been found, please contact us at (918) 336-1001 or email sharon@bartlesvilleradio.com as soon as possible so we can remove it from our list. We retain the right to edit any postings.
Here are links to local websites: Washington County SPCA www.wcspca.org and ARF www.arfok.org
Daisy - Lost
Species: Dog
Sex: Female
Collar: Yes
Color: Brown
Breed: mixed breed
Area Lost: Copan
Contact: Ashley or Walker
Phone: 918-214-7187
Email: amaggard87@gmail.com
Date: 2014-04-15
Time: afternoon
Lost female puppy in Copan about 6 months brown with black markings. Has a blue and orange collar and a flea collar. Very sweet.
Found
Species: Dog
Sex: Female
Collar: No
Color: light red,white on face and tip of tail
Breed: dachshund
Area Found: Oak Park on Holly Lane
Contact: Cathy
Phone: 918-213-5624
Email: clingram1951@yahoo.com
Date: 2014-04-13
Time: agternoon
Small reddish blonde female Dachshund with white on face and tip of tail. Orange brown eyes About 5 years old per the vet. Weighs 10 pounds.Did not have collar on. Very sweet temper except does not like my dogs. Appears not to be spayed.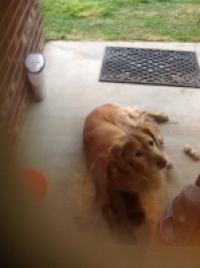 Found
Species: Dog
Sex: Male
Collar: No
Color: Light brown
Breed: Golden Retriever
Area Found: Fairview Road/ Rolling Hills subdivision
Contact: Angela
Phone: 918-841-4594
Email: angelakitts@gmail.com
Date: 2014-04-13
Time: monring
He is a sweet dog found at our doorstep. Seems to be an inside dog.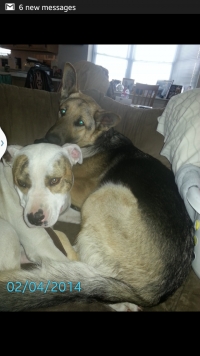 Hoyt - Lost
Species: Dog
Sex: Male
Collar: No
Color: brown black
Breed: German shepherd
Area Lost: Dewey
Contact: Becky
Phone: 918-331-7017
Email: beckylhull@aol.com
Date: 2014-04-12
Time: mroning
Large German shepherd limps due to hip problems very sweet no collar should be with pit bull thats white
Lost
Species: Dog
Sex: Female
Collar: Yes
Color: White with brindle patches on eyes
Breed: pitty
Area Lost: Dewey
Contact: Becky
Phone: 918-331-7017
Email: beckylhull@aol.com
Date: 2014-04-12
Time: morning
$100 reward very sweet but hyper pitty pup 1years old has collar with tags should be with a German shepherd that limps
Found
Species: Dog
Sex: Male
Collar: No
Color: black
Breed: Lab mix
Area Found: Ochelata/Rd 2600
Contact: Diane
Phone: 918-519-8052
Email: moorethanblessed7x@gmail.com
Date: 2014-04-12
Time: morning