Dog GONE
Dog Gone is heard on each of our stations daily. When we receive an announcement, we air it for at least 10 days before discarding it. If your animal is lost or found within that time period, please let us know, so we will discontinue airing the announcement. Click HERE to submit an announcement. If your animal has been found, please contact us at (918) 336-1001 or email sharon@bartlesvilleradio.com as soon as possible so we can remove it from our list. We retain the right to edit any postings.
Here are links to local websites: Washington County SPCA www.wcspca.org and ARF www.arfok.org
Found
Species: Dog
Sex: Male
Collar: Yes
Color: black with white around neck, muzzle and chest
Breed: Great Dane-Pit mix
Area Found: off 2400 Road
Contact: Susan
Phone: 918-440-4076
Date: 2017-06-28
Time: morning
Leave a message and she will call you right back. He is wearing a faded red collar.
Lost
Species: Dog
Sex: Male
Collar: No
Color: strawberry blonde
Breed: Pomeranian Chihuahua Mix
Area Lost: downtown Bartllesville area
Contact: Rebecca
Phone: 918-914-9059
Date: 2017-06-23
Time: morning
Found
Species: Dog
Sex: Male
Collar: No
Color: Silver-Grey-White
Breed: mixed breed
Area Found: Food Pyramid parking lot
Contact: Mary Lou Bork
Phone: 918-230-8831
Date: 2017-06-17
Time: morning
Lost
Species: Dog
Sex: Male
Collar: No
Color: Brown and white
Breed: Beagle
Area Lost: Westside--Penn & Loupa
Contact: n/a
Phone: 918-214-3975
Date: 2017-06-16
Time: morning
Male Beagle...brown and white...about 4 to 5 years old. Sweet..doesn't bark much and friendly.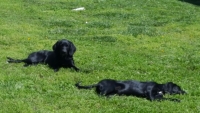 Kate & Lolly - Lost
Species: Dog
Sex: Female
Collar: Yes
Color: Black with White chest
Breed: Lab mixes
Area Lost: Hulah Lake
Contact: Judd Strom
Phone: 405-614-1662
Email: juddstrom@hotmail.com
Date: 2017-06-12
Time: 3pm
2 black female Black Lab mixes. 6 months old. Lanky. Floppy ears. One with an orange collar. One with a Camouflage collar. Both have small white markings. Lost Sunday June 11. Last seen near Copan.