Dog GONE
Dog Gone is heard on each of our stations daily. When we receive an announcement, we air it for at least 10 days before discarding it. If your animal is lost or found within that time period, please let us know, so we will discontinue airing the announcement. Click HERE to submit an announcement. If your animal has been found, please contact us at (918) 336-1001 or email sharon@bartlesvilleradio.com as soon as possible so we can remove it from our list. We retain the right to edit any postings.
Here are links to local websites: Washington County SPCA www.wcspca.org and ARF www.arfok.org
Lost
Species: Dog
Sex: Male
Collar: Yes
Color: white
Breed: Maltese
Area Lost: 600 block of Wilshire in Bartlesville
Contact: caller
Phone: 918-886-3009
Email: charlie@bartlesvilleradio.com
Date: 2015-07-01
Time: 10 PM
was scared by the Wednesday night fireworks in Bartlesville. Has its tags with the vet's office on them. Wearing a black collar.
Found
Species: Dog
Sex: Female
Collar: No
Color: Black and tan
Breed: Min Pincher
Area Found: Woodland Park
Contact: Susan
Phone: 918-907-1485
Date: 2015-07-01
Time: afternoon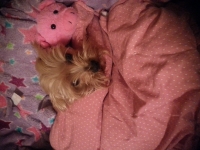 Tucker - Lost
Species: Dog
Sex: Male
Collar: No
Color: Tan and grey
Breed: yorkie
Area Lost: dewey
Contact: Betty Williams
Phone: 918-331-6259
Email: bettywilliams22@yahoo.com
Date: 2015-06-26
Time: 9am
Missing male yorkie in dewey. Was in a kennel and got out. Will be very scared. 200 reward.
Roscoe - Lost
Species: Dog
Sex: Male
Collar: Yes
Color: Brindle/white
Breed: Boxer
Area Lost: Nowata rd/crescent dr area
Contact: Andrea
Phone: 620-870-9675
Email: nurseandrea04@yahoo.com
Date: 2015-06-23
Time: 3:30
Boxer male, brindle with white feet and chest. About 24-28" tall to his shoulders friendly, loved, and missed.
Meep or Miss D - Lost
Species: Cat
Sex: Female
Collar: Yes
Color: Black
Breed: domestic long hair
Area Lost: 21st & Dewey
Contact: Dani
Phone: 918-766-4886
Email: leuckykgirl@yahoo.com
Date: 2015-06-21
Time: 11:00
Long Haired loving cat, very vocal girl and when she wants in or out a door she scratches it continuously. Only two years old and we want her back. Missing our meep