Dog GONE
Dog Gone is heard on each of our stations daily. When we receive an announcement, we air it for at least 10 days before discarding it. If your animal is lost or found within that time period, please let us know, so we will discontinue airing the announcement. Click HERE to submit an announcement. If your animal has been found, please contact us at (918) 336-1001 or email sharon@bartlesvilleradio.com as soon as possible so we can remove it from our list. We retain the right to edit any postings.
Here are links to local websites: Washington County SPCA www.wcspca.org and ARF www.arfok.org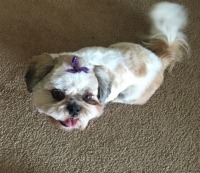 Lexi - Lost
Species: Dog
Sex: Female
Collar: Yes
Color: white w/ brown
Breed: Shih tzu
Area Lost: Woodland Park-Willowood Dr.
Contact: Bo Ball
Phone: 580-491-8582
Email: lightningbaby@gmail.com
Date: 2015-07-30
Time: 5 PM
She is completely shaved down, even her tail. She is wearing a thin pink collar with gray bones on it. She is extremely sweet tempered.
Found
Species: Dog
Sex: Male
Collar: Yes
Color: brown
Area Found: Nowata and Madison area
Contact: n/a
Phone: 918-815-4350
Date: 2015-07-31
Time: morning
Found Pit Bull around Madison and Nowata. He is wearing a black collar. Call 918-815-4350.
n/a - Found
Species: Dog
Sex: Male
Collar: Yes
Color: Black & white
Breed: unknown
Area Found: Ranch Hts School
Contact: Gordon Stallings
Phone: 918 333-7390
Email: grs@alum.mit.edu
Date: 2015-07-29
Time: 9AM
Small with mostly black curly hair. White below the chin. Has been trimmed. Collar but no tag. Not shy but calm and quiet.
Found
Species: Cat
Sex: Male
Collar: Yes
Color: Calico
Breed: Cat
Area Found: Bluestem addition/Hamilton and brahma , Dewey
Contact: Tamari
Phone: 9184409291
Email: Tamarijclem@yahoo.com
Date: 2015-07-22
Time: 2 days
3 month old? Calico kitten. Has 1/2 a black mustache and purple flea collar.
NA - Lost
Species: Dog
Sex: Female
Collar: Yes
Color: Brown and black with some gray and a black mask
Breed: Boxer
Area Lost: Sheridan off of Washington Blvd
Contact: Terri
Phone: 918-273-8221
Email: email@bartlesvilleradio.com
Date: 2015-07-20
Time: