Dog GONE
Dog Gone is heard on each of our stations daily. When we receive an announcement, we air it for at least 10 days before discarding it. If your animal is lost or found within that time period, please let us know, so we will discontinue airing the announcement. Click HERE to submit an announcement. If your animal has been found, please contact us at (918) 336-1001 or email sharon@bartlesvilleradio.com as soon as possible so we can remove it from our list. We retain the right to edit any postings.
Here are links to local websites: Washington County SPCA www.wcspca.org and ARF www.arfok.org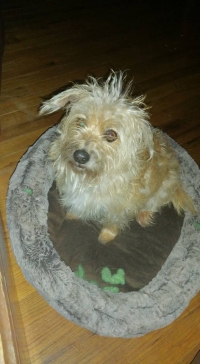 Whiskers - Lost
Species: Dog
Sex: Male
Collar: Yes
Color: Tan
Breed: Terrier mix Curly hair Benji
Area Lost: Lost 21st S Osage Ave
Contact: Angel Barrows
Phone: 918-876-5295
Email: gdsangelx1@yahoo.com
Date: 2016-02-11
Time: between 1:00 - 3:00
Tan curly hair terrier mix, male (Benji looking dog). Is 5 years old, weights 9-10 lbs, leather collar with phone number written on it, dog tags, dog is micro chipped and has a hidden tattoo marking. Well known at cooper dog park and Arvest bank drive thru. Answers to Whiskers, friendly to all animals and people. Has big brown button eyes.