Anniversaries
We announce Anniversaries on each station, along with our Birthday announcements between 7:15 and 7:45 daily. You may win a $10 Gift Certificate from Sterling's Grille if you are the winner drawn. To register for the daily drawings, submit your information by clicking here. If you win, you may pick up the gift certificate at Broadcast Center, upstairs, 1200 SE Frank Phillips Blvd., Bartlesville. (Anniversaries are posted a couple weeks prior to the date.) Congratulations & Good Luck!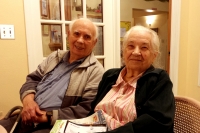 Andrew & Irene Anderson
Date:
2015-08-03
City:
Bartlesville
74 YEARS AGO, on Aug 3, 1941, my parents, Andy & Irene Anderson were married in Southern Missouri, My Mom was 18 years old and my Dad was 21. When my Dad returned from military service in WWII, he went to work for Phillips Petroleum Co in Kansas City, MO. They were transferred to Bartlesville in 1970 where they have made their home continuously since then. They have 3 children, 8 grandchildren and 13 great-grandchildren. A 74 year marriage is a record few couples can beat! We are all extremely thankful to God for so many rich blessings and wonderful years together. We are happy for our parents and proud of them! Happy Anniversary and Congratulations!!! With love, your family.
Scott & Patti Mason
Date: 2015-08-07
City: Bartlesville