News
Osage County
Posted: Aug 11, 2014 9:38 AMUpdated: Aug 11, 2014 9:38 AM
Osage Commissioners Approve New Website Items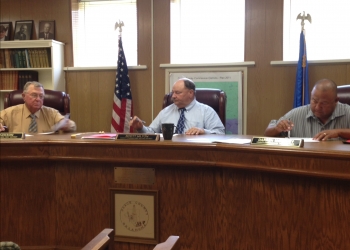 Colton Scott
The Osage County commissioners met on Monday morning and approved several new items regarding the new county website.
Steve Guy with the tourism committee went before the panel and presented the commissioners with items for approval including hiring a photographer for website photos, advertising in the Kaw Law Recreation Guide, and rebidding for the social media program that will go hand in hand with the new website. The commissioners approved all the items.
Tony Gower also went before the panel to discuss stall rental prices at the Osage County Fairgrounds. Gower asked for the price of the stall to be lowered from its current rate of $5 per day. The commissioners tabled the item to discuss it further, and it should appear on a future agenda.
The commissioners then approved a request from the Pawnee County Commissioners for equipment assistance in Pawnee County for a district 1 project.
Finally, to close the meeting, the commissioners went into executive session to discuss applications for a maintenance position at the courthouse.
The commissioners will meet again next week for their next regularly scheduled business meeting.
« Back to News