News
Local News
Posted: Aug 06, 2014 3:48 PMUpdated: Aug 06, 2014 4:00 PM
Bridenstine Speaks in Owasso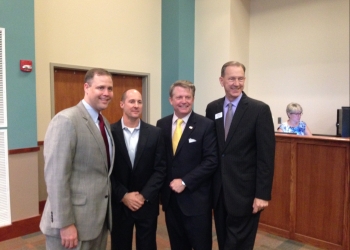 Jon Eastman
Jim Bridenstine paid a surprise visit to Owasso Wednesday, speaking at the Owasso Chamber of Commerce's luncheon. Bridentstine took the most of his time, spending only about ten minutes addressing those in attendance. He focused on the crisis on the southern border, saying only 40 percent of the border is secure allowing cartels control of the border.
He then talked about seizing drugs from these same cartels while flying as a naval aviator and how he's seen that by allowing drugs across the border we are, in effect allowing the cartels to control governments.
Bridenstine also called for the president and the legislature to follow the law and provide for 100% control of the border. To hear the entire speech, visit this story on our website, bartlesvilleradio.com.
« Back to News