News
Local News
Posted: Aug 05, 2014 3:19 PMUpdated: Aug 05, 2014 3:19 PM
Parks Department Preps Stadium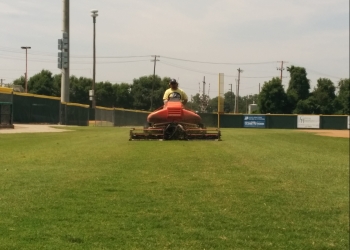 Jon Eastman
The first pitch of the Sandy Koufax World Series is (was) Wednesday at 1:30. But before a single baseball team throws a ball on the field, a different team covered the entire stadium prepping for the tournament. Bobby Robinson and his team have spent about 140 hours in the last two weeks getting Bill Doenges Memorial Stadium into pristine condition for the tournament. Whether that means putting new Oklahoma Red Dirt on the base paths, power washing the bleachers and seats, mowing, or paint touch ups, his crew does it all. For Bobby, it's all about showing off the parks in Bartlesville to those who come to town.
In addition he likes being able to show off the stadium itself and its old-style construction.
Although Robinson has worked as park superintendent for 6 years and has a great staff he says he couldn't get the job done at the stadium without the help of volunteers that come out and work on the stadium. To all those who have worked hard to prepare Bill Doenges Memorial Stadium for the Sandy Koufax World Series, we thank you.
« Back to News