News
Local News
Posted: Aug 04, 2014 3:26 PMUpdated: Aug 05, 2014 11:50 AM
Pack the Backpacks a Success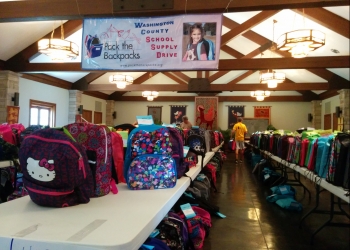 Jon Eastman
Thousands of students and parents streamed through the doors of Saint Luke's Episcopal Church, grateful for what was given inside. Instead of spiritual help, St. Luke's was the home to the Washington County School Supply Drive's Pack the Backpacks giveaway. This year more than 23 hundred backpacks were filled, ready for students from every grade to pickup and take to school. For Melinda Wesneski, although this is a lot of work, she loves knowing how this program helps others.
The program provides the required school materials for all schools in Washington County as well as schools in Osage County that feed into Washington County Schools. Although this year's Pack the Backpacks program has ended, it is just the beginning of next year's as most of the supplies will be purchased in September and October. Wesneski says volunteers and donations are accepted year round.
In addition, the Washington County School Supply Drive holds fundraisers throughout the year. For more information about the WCSSD, click here.
« Back to News