News
Washington County
Posted: Jul 25, 2014 9:12 AMUpdated: Jul 25, 2014 9:12 AM
Sheriff Silver Accepts Seized Car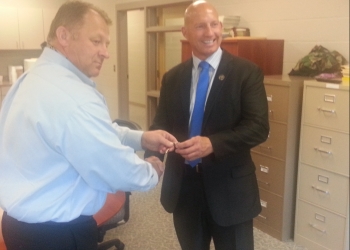 Charlie Taraboletti
Director of the Oklahoma Bureau of Narcotics and Dangerous Drugs, Darrell Weaver handed Sheriff Rick Silver the keys to a car that was seized as a result of drug activity. Weaver says the state program puts assets in the hands of law enforcement agencies that may not have the budget to buy them.

Sheriff Silver says the unmarked vehicle can be used for everything from routine office transportation to surveillance and undercover work.

Silver said he applied for the vehicle earlier this year and was notified this week that one was available.
« Back to News