News
Cavalcade
Posted: Jul 21, 2014 3:20 PMUpdated: Jul 21, 2014 3:40 PM
Bartlesville Cowgirl Wins 2014 Cavalcade Queen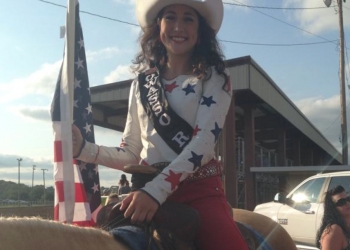 Colton Scott
Bartlesville's own Taylor White was named the 2014-2015 Cavalcade Queen on Sunday in what was the closest finish in the history of the "world's largest amateur rodeo" event.
Before Sunday's conclusion, White was in first place along with Ponca City's Lauren Hadley who she was tied with – a first for the Cavalcade Queen event.
Both candidates then underwent tests of arena skills, a fashion show and interviews, and then the new queen was named based on her performances at the Queen's Horsemanship Contest, which was held the Monday of the weeklong Cavalcade event.
White is a senior at Bartlesville High School, and she beat Hadley by one point in the equine-handling event. She is the daughter of Tami and Koby Brinkman and the late Tracy White. In the queen competition, White represented the Owasso Roundup Club.
The prizes White received for winning the title included a custom-made saddle courtesy of Yocham's Saddlery, $1,000 cash, and various other prizes.
« Back to News