News
U. S. Congress
Posted: Jul 18, 2014 6:20 AMUpdated: Jul 18, 2014 6:21 AM
Congressman Mullin Applauds Limiting EPA Overreach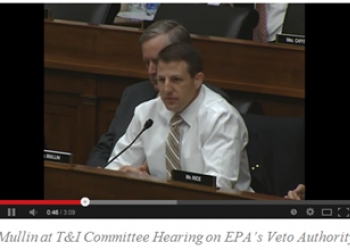 Charlie Taraboletti
Second District Oklahoma Congressman Markwayne Mullin, a member of the House Transportation and Infrastructure Committee, applauded the Committee for approving several bills aimed at reining in the Environmental Protection Agency's authority, providing regulatory certainty, and maintaining a balanced state-federal regulatory relationship.
H.R. 5078, the Waters of the United States Regulatory Overreach Protection Act of 2014 would prohibit the Environmental Protection Agency and the Army Corps of Engineers from broadening the scope of the Clean Water Act and expanding the federal government's regulatory authority.
Mullin said ensuring safe and clean water must always be a priority, but the EPA's new proposed rule to expand the definition of navigable waters threatens agricultural and business operations in Oklahoma with no added protection to our water. Mullin said in practice, expanding regulations on the nation's waters would significantly limit the amount of usable land for ranchers and farmers. As a rancher, Mullin knows that overreaching federal regulations could put many family farms at risk.
According to the congressman, the EPA has time and time again stepped in and revoked Clean Water Act permits to businesses after they had already been approved.

Mullin says the bill will help ensure that the Environmental Protection Agency does not overstep its bounds during project permitting processes, and it supports the interests of farmers and manufacturers in Oklahoma and across the country.

« Back to News