News
Local News
Posted: Jul 16, 2014 3:24 PMUpdated: Jul 16, 2014 3:37 PM
Medical Marijuana Advocates in Bartlesville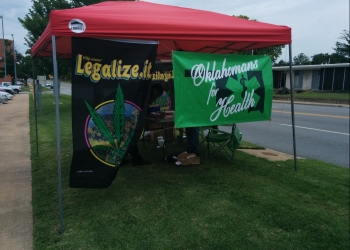 Jon Eastman
A group called Oklahomans For Health was in Bartlesville Wednesday to get signatures for a petition to make Medical Marijuana legal in the state of Oklahoma. The ballot item would ask that applicants who have a disease that can be treated by marijuana for a list of specific conditions be allowed to posses marijuana if they have an application signed by their doctor. The applicant would then have a lifetime license to posses 3 ounces of marijuana and six marijuana plants. In addition, dispensaries and growers would be able to legally grow and sell marijuana with a 7% tax on the sales. Willie Jones, from Oklahomans for health says that there are many
medical uses for marijuana
.
Jones also says
this is different
from what is being done in Colorado and Washington.
State law requires that the petition have more than 155 thousand registered voters' signatures to put the question on the ballot. To see more information about the proposed ballot question including the full petition with the legal language including fines for abuse, where the tax money would go and a list of ailments that would qualify,
click here
to go to the Oklahoman's For Health website.
« Back to News