News
Local events
Posted: Jul 14, 2014 6:35 AMUpdated: Jul 14, 2014 6:35 AM
Inter-State Fair Announces Special Show Event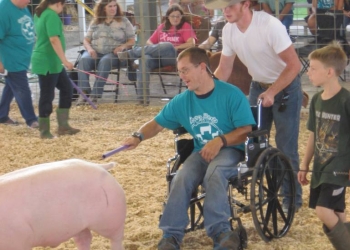 Charlie Taraboletti
This year's Inter-State Fair hosts a very special night for some very special people in Coffeyville. The fifth annual Buddy Barrow show for people with developmental disabilities will take place on Wednesday evening, August 13 at 6:30 at the show ring at Walter Johnson Park.
The barrow show matches up people with special needs with 4-H and FFA youth who have shown their barrow. It gives them the chance to experience something in which they usually don't get to participate. The 4-H and FFA youth tell the Buddy Barrow show participants about their hog, its name, breed, and give them pointers on showing it.
Participants' showing abilities are judged, and Grand and Reserve Champions are awarded and given buckles. Each person gets a t-shirt, a participation ribbon, and other goodies. Ben Foster showed a hog last year. He says he enjoys it very much. Foster won a ribbon last year and gave it to his mom, so she could display it at her house.
Last year, more than forty participants took part. Many of them come from the Parsons State Hospital and Training Center, and some of them are clients of Class. Local people also participate. Fair officials encourage pre-registration but it's not required. Pre-registration can be done through the Coffeyville Chamber of Commerce. Call 620-251-2550.
The Inter-State Fair runs August 8-16 and includes many other events, including nine nights of grandstand entertainment. For more information, visit the website at FairandRodeo.com or call the Chamber.
« Back to News