News
U.S. House
Posted: Jul 14, 2014 6:23 AMUpdated: Jul 14, 2014 6:23 AM
Congressman Bridenstine Visits Ft. Sill Children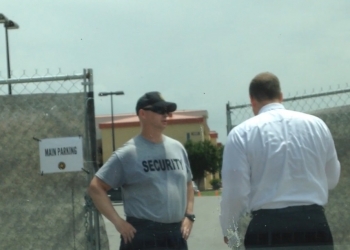 Charlie Taraboletti
Congressman Jim Bridenstine toured the Health and Human Services facility housing Unaccompanied Alien Children (UAC) at Ft. Sill on Saturday. U.S. Representative Marsha Blackburn of Tennessee joined him on the tour. The Congressman says he was there to gain an understanding of the conditions and status of the UAC and the processes and procedures federal agencies use in securing their safety and releasing them to sponsors in the U.S. He also was there to gain insight into actions Congress might take to stop the humanitarian crisis and the threat to U.S. national security and national sovereignty posed by the current crisis.
Congressman Bridenstine said it is a very difficult situation. He says he was impressed with the professionalism and compassion of the people who work at the facility as well as the Lawton/Ft. Sill community.
Bridenstine says his concerns were validated regarding the dangers of the journey to the U.S. The children are exposed to human trafficking, abuse and even death. Bridenstine is concerned about the so-called 'sponsors' to whom the children are being released were also validated. Since it is very difficult to obtain an accurate background check when the potential sponsors are themselves illegal aliens, HHS personnel rely heavily on asking them questions and the sponsors' self-reporting. There are cases where the sponsors are not related to the child, and HHS has acknowledged human traffickers have attempted to obtain release of some children.
Bridenstine said the crisis is directly related to this Administration's failed policies and refusal to enforce the law. The President's $3.7 billion spending proposal will not stop the crisis. Solving this is a matter of national security and national sovereignty.
« Back to News