News
Osage Nation
Posted: Jul 02, 2014 11:47 AMUpdated: Jul 02, 2014 11:47 AM
Osage Nation Inaugurates New Principal Chief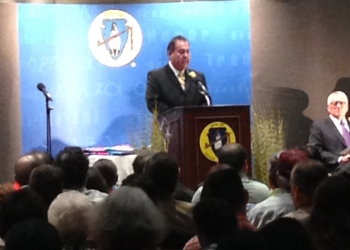 Colton Scott
On Wednesday, the Osage Nation its inauguration of new and returning government officials in Ponca City at the Osage Casino Hotel.
The ceremony began with a traditional Osage parade and flag song followed by the keynote address given by Oklahoma Congressman Tom Cole.
The government officials then took their oaths of office starting with Supreme Court Chief Justice Meredith Drent and Trial Judge Marvin Stepson.
The newly-elected Osage Congress was then sworn in consisting of Alice Buffalohead, Otto Hamilton, James Norris, Angela Pratt, Dr. Ronald Shaw and William "Kugee" Supernaw.
New Principal Chief of the Osage Nation Geoffrey Standing Bear was also sworn in along with the new Assistant Principal Chief Raymond Red Corn.
Standing Bear said in his inaugural address that he was thankful for the opportunity to get to serve in his new role as chief of the Osage people.
"We change our constitutions and governments as we believe are required for our continued prosperity," Standing Bear said. "We will be diligent in our awareness and our service to the Osage people for yet a brief time. On behalf of my wife Julie and myself, I thank all of you for the opportunity to serve as your principal chief."
The service concluded by recognizing government officials who formerly served for the Osage Nation including Scott BigHorse, Terry Mason Moore and the former members of Congress.
Inauguration representative Shannon Edwards said the event was planned more than a year ago as a way to celebrate the Osage people's government and to orderly transfer power.
« Back to News