News
Local events
Posted: Jul 02, 2014 9:04 AMUpdated: Jul 02, 2014 10:11 AM
Inhofe Speaks to Chamber Forum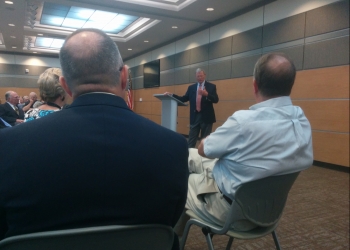 Charlie Taraboletti
U. S. Senator Jim Inhofe addressed the Bartlesville Regional Chamber of Commerce forum Tuesday morning at Tri-County Technology Center. He spoke on a range of issues affecting the state of Oklahoma and the nation including the Supreme Court Hobby Lobby decision, Environmental Protection Agency over-reach, and others.
Inhofe was at Ft. Sill a week ago visiting the minors who are being held there after they crossed the U. S. border from Central America. Inhofe says he spoke with the children -- all of whom claimed to have relatives in this country. He says whether they do or not, they are here because of messages being sent by the administration which effectively say if you can make it here you will be take care of. Inhofe says the message is wrong.

The youngsters are being held on military installations. The problem is that there has only been an announced plan outlining where they will be housed until October. After that, Inhofe says nobody will say,.

Inhofe says the youngsters should never have been put on busses at the border and taken to Ft. Sill and other military installations.
« Back to News