News
Local News
Posted: Jun 17, 2014 3:05 PMUpdated: Jun 17, 2014 3:05 PM
New Water Tower Almost Complete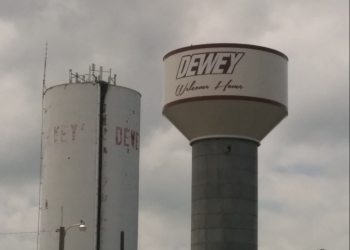 Jon Eastman
If you have been in Dewey recently, you may have noticed a new addition to the skyline. Emblazoned with "Dewey Welcome Home," the new water tower looks to be complete, but City Manager Kevin Trease says there is still plenty of work to be done on the new tower.
Trease says the main purpose of the tower is to provide water to Dewey if the supply line into Dewey breaks.
The tower is expected to be in operation by September.
« Back to News