News
Local events
Posted: May 29, 2014 4:02 PMUpdated: May 29, 2014 4:02 PM
Nowata City Sale Registration Deadline is Friday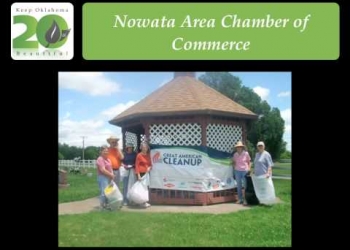 Charlie Taraboletti
You can clean out your closets and turn all that extra stuff into cash next month. The Nowata Area Chamber of Commerce will host a City Wide Garage Sale event on Friday, June 6 & Saturday, June 7.

If your club or organization is looking for a fundraiser, here is a great opportunity to have some fun whole raising dollars for that worthwhile event. Either set up a sale or provide a stop off place for lunch and refreshments-Take this opportunity to come up with a creative plan of your own to make some money.

If you live in the country or don't have a place to have your sale, The Nowata Chamber can help you set up at one of the parks. Space in the parks is on a "First Come First Serve" basis and there is no rental fee. And you can still register your sale with the Chamber and be on the map!

Registration for your sale to get on the map and in the advertising in the newspaper is only $5.00! You may register at the Chamber office by phoning 918-273-2301 between 9:00am-1:00pm, Mon –Fri or mail your sale information to Nowata Area Chamber of Commerce, P.O. Box 202, Nowata Ok 74048. We have a link as part of this story online where you can email ads and locations to the Nowata Chamber and be billed at a later time.

The deadline is Friday, May 30th, so the Chamber will be able to get all of your sales ads published.
You will be required to go to City Hall and register your sale with the City and will be required to pay a fee of $1.00 to host a garage sale inside the City of Nowata.
« Back to News