Sports » Latest News
Sports
Posted: Jun 29, 2020 7:13 AMUpdated: Jun 29, 2020 8:13 AM
Winget Week in Bartlesville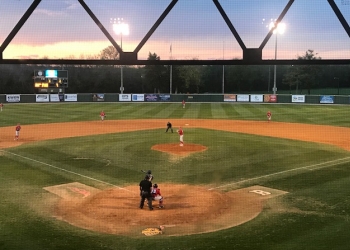 It is Winget Week in Bartlesville, as the Doenges Ford Indians are getting set for their premiere event of the summer.
The Indians will host the 61st annual Glen Winget Tournament at Bill Doenges Memorial Stadium starting on Thursday, with a field consisting of the Indians, Branson Pirates, Ft. Smith Sportsman, Hillcrest Merchants, Kickapoo Chiefs, Oklahoma Mudcats, Mountain Home Lockeroom and the Three Rivers Bandits.
The Indians will play at 7:30 PM on Thursday, Friday and Saturday.
Bartlesville stands at 10-14 on the summer after going 3-3 during play in the state of Kansas over the weekend. The Indians lost to Three Rivers 7-4 on Saturday, but rebounded to run-rule an Overland Park club 15-5 in game two.
The Indians will have a tune-up to get the stadium ready on Tuesday night. Bartlesville has added a double-header against Pittsburg, Kansas in an effort to get Rigdon Field and Bill Doenges Stadium prepped for the Winget.
First pitch on Tuesday night at 6:00 from downtown Bartlesville, as the Indians play their true home-opener.
« Back to Sports