Sports » Latest News
Sports
Posted: Dec 04, 2019 7:45 AMUpdated: Dec 04, 2019 8:54 AM
Union Sweeps Bartlesville to Begin 2019-20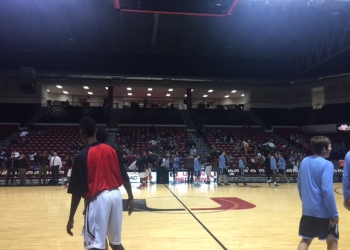 Bartlesville High was swept on the road at Tulsa Union, as both BHS teams ran into top-10 quality competition in 6A to begin their respective seasons.
The Lady Bruins fell to Union 49-32. Bartlesville was down by 10 at halftime, but came roaring back in the first four minutes of the third quarter, thanks to Chloe Martin. Martin score 10-unanswered points to claw BHS back into a tie. Her back-to-back threes started the run.
Union would push the lead out to near 10 by the end of the third quarter, and would put Bartlesville away from there. BHS only scored six points in the final 11.5 minutes of the contest.
Lady Bruins at Union Box Score
The Lady Bruins will turn around and play again on Wednesday evening in the Carthage, Missouri tournament. Bartlesville faces Webb City at 8:00 PM in a broadcast we will have on KWON - AM 1400 and FM 93.3, no KWONTV.com broadcast.
BHS will play three games – Wednesday, Thursday and Friday. That is a scheduling change from the original bracket. The Lady Bruin's games on Thursday and Friday will be around 5:30 PM, also broadcasted on KWON.
Meanwhile the Bartlesville guys hung in for one quarter, but Union had their way with the Bruins after that. BHS fell to Clent Stewart's alma mater 75-44.
A little Bruin run toward the end of the first quarter drew the contest to 20-15, but Union would hold Bartlesville to just seven 2nd quarter points, and only 22 in the second half.
Turnovers were an issue for BHS without its point guard in Shane Simpson. Bartlesville committed 31 giveaways on the night.
Adam Nakvinda was a major highlight, scoring 21 in his junior-season debut.
The Bartlesville boys are off until Tuesday Dec. 10 at Muskogee in the next girl's and boy's double-header.
« Back to Sports