Sports » Latest News
Sports
Posted: Jul 06, 2022 7:27 AMUpdated: Jul 06, 2022 8:27 AM
Summer Pride Sizzles at BPS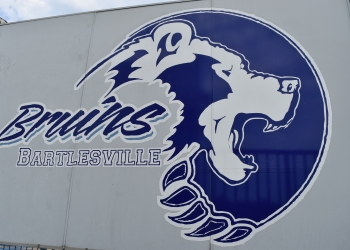 Summer pride has exploded this year at Bartlesville High School, as the athletic department and coaches have all cited record turn-outs over the course of the offseason.
Nearly 300 student athletes of all grade levels have been out on certain days to get some type of activity in.
Bartlesville High Athletic and Activities Director Thad Dilbeck gave a nod to strength coach Daniel West, who he says does the planning for the workouts. What exactly the athletes are doing is contingent on the sport and whether or not they are in-season or not.
Dilbeck also says the large numbers can sometimes be a space-constraint, but that is something the school is happy to deal with.
Currently there is nothing ongoing at school facilities because of the OSSAA-mandated dead-period.
Student athletes will get back at it next week before some fall practices begin for volleyball, softball and cross country.
« Back to Sports