Sports » Latest News
Sports
Posted: May 13, 2019 6:58 AMUpdated: May 13, 2019 7:58 AM
Spring Football Begins in Bartlesville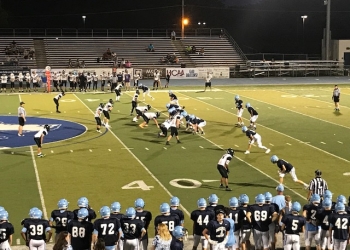 Despite official spring sports being over, Monday is an exciting day in athletics in the area, because spring football can begin.
Teams all throughout Osage, Washington and Nowata counties can officially begin their spring practices.
Bartlesville High will hold its first practice under first-year head coach Jason Sport on Monday. Sport was hired in December after the departure of Lee Blankenship just one year into his tenure. Sport has been on the job nearly six months now, and he says he is having the time of his life coaching these Bruins.
Sport served as the Bruin's defensive coordinator in 2018, and reiterated that last season was one of the most fun coaching jobs he had in his career. He came to BHS from Jenks, having served as the Trojans defensive backs coach and special team's coordinator.
This upcoming fall, Bartlesville will tap Jason Munoz as offensive coordinator, as he was the Bruins quarterbacks coach last year. And Tanner Koons comes from Perry to guide the Bruin defense. In total, BHS returns about 19 guys with starting experience from a four-win season last year. Sport talks about objectives for his team's spring.
Sport says there are about 85 guys solidly committed to playing football this spring into the fall, with several other maybes. Those numbers are right in line with a year ago, when Bartlesville had record numbers of players out for the team.
We will have more from Bruin spring practice, along with position breakdowns later on this week.
« Back to Sports