Sports » Latest News
Sports
Posted: May 14, 2018 7:03 AMUpdated: May 14, 2018 8:03 AM
Spring Football Begins in Bartlesville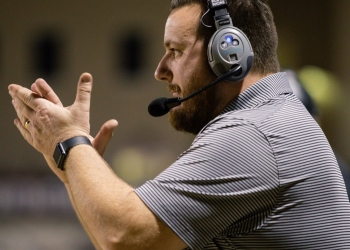 For a new coaching staff, it couldn't come fast enough.
Spring football is going to official kick off for Bartlesville High School on Monday, as the long wait for first-year head coach Lee Blankenship getting to see his team in action is over.
BHS will keep practice in-house for the next several weeks as Blankenship starts to evaluate his talent and implement his team rules. Blankenship talks about the process going forward.
Blankenship takes over a Bartlesville team that won two games on the field this past season, and had nearly half its starters graduate.
There is still plenty of talent available, and there are likely to be more boys out for the team than there have been in year's past.
We will have much more on Bruin spring football as the days go on.
« Back to Sports