Sports » Latest News
Oklahoma Union Football
Posted: Nov 21, 2020 5:04 AMUpdated: Nov 21, 2020 6:04 AM
Short-Handed OKU Topped by Morrison in Playoffs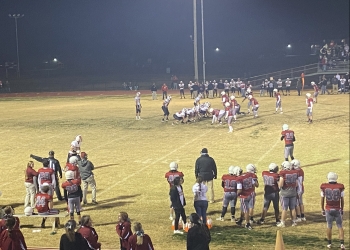 Oklahoma Union's football season came to an end on Friday night with a 30-7 loss to Morrison in the first round of the playoffs. The Cougars were hosting their first playoff game since 2004.
It started off well with OKU forcing an interception on the first drive. A great runback by Baylor Nash gave the Cougars great field position, but they would give the football right back on an interception of their own. The ensuing Morrison drive ended in a fumble recovered by Wyatt Hannah.
OKU couldn't capitalize once again and the Wildcats offense would wake up after that. Two second quarter rushing touchdowns made it 16-0 at halftime. Morrison's dominant ground attack would add two more scores to make it 30-0. In total the Wildcats ran for 244 yards.
The Cougars were missing several key pieces on offense and struggles to move the ball in wet and windy conditions. OKU managed 173 yards on the night. The bulk of the work was carried by senior back Mason Pittman who logged 97 yards on 21 carries. Trinton Kuehn also had 69 yards including this late touchdown.
OKU ends the year at 6-3. The senior class totaled 22 wins over the last four years and will leave as one of the more successful classes in school history.
« Back to Sports