Sports » Latest News
Pawhuska Football
Posted: Nov 30, 2019 6:05 AMUpdated: Nov 30, 2019 7:43 AM
Pawhuska Eliminated from Playoffs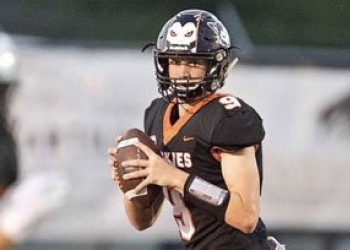 Pawhuska's magical run ran out of gas as well on Friday. The Huskies dropped the quarterfinal to Ringling 22-12.
Pawhuska got on the board in the first half against the Blue Devils which was quite a feat given that they hadn't allowed a single point since week two. A low-scoring it was 7-6 Ringling a halftime. Ringling's offense would find its footing though with two touchdowns in the third quarter to make it 22-6.
The Huskies comeback attempt started on the first play of the fourth quarter when Bryce Drummond found Kevan Davis in the endzone.
However, Pawhuska could not take advantage from there as Ringling would hold it scoreless the rest of the way. The Huskies finish the season at 11-2.
(PHOTO COURTESY: Pawhuska Football/ Twitter)
« Back to Sports