Sports » Latest News
Barnsdall Football
Posted: Dec 04, 2019 1:38 PMUpdated: Dec 04, 2019 2:38 PM
Panthers Reflect on Successful 2019 Season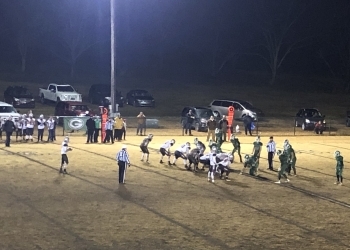 Barnsdall's football season came to an end Friday evening against Cashion, but the Panthers still had a season that will be remembered for years to come. It was the first time they had won two playoffs games in the same season since 1940. Coach Kylee Sweeney said it was also the first time Barnsdall had gotten a home win against cross-county rival Hominy since the early 1990s.
Midway through the season, Barnsdall had back-to-back losses against Morrison and Pawnee, but they bounced back in a big way with a 33-8 victory over the defending state champions in Tonkawa.
The Panthers went on to beat Woodland and clinched a third seed heading into the Class A playoffs. They beat Commerce in the first round and traveled to Gore for a second round matchup in a game that had a little bit of everything, but the Panthers came out on top in the end.
Barnsdall graduates 13 seniors.
« Back to Sports