Sports » Latest News
OKWU basketball
Posted: Jan 17, 2018 9:53 PMUpdated: Jan 18, 2018 11:46 AM
OKWU Splits With Friends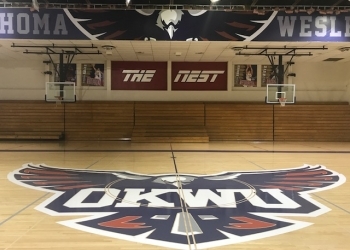 It was an interesting evening of basketball at the Mueller Sports Complex on Wednesday. Oklahoma Wesleyan split two games with conference-rival Friends.
The Lady Eagles came out flat in the first half against the first-place Lady Falcons. Friends took advantage early and took a fifteen-point lead after the first quarter. The Lady Eagle defense continued to struggle in the second quarter and were down double-digits at halftime, 42-31.
OKWU found a spark in Dane Goodwin out of the locker room as she scored the first eleven points of the second half. Goodwin finished this wild sequence with one of her many smooth jumpers.
This effort put the Lady Eagles back in the game and it tied at 55 heading into the fourth.
Tiffany Rieger knocked down a trio of three-pointers in the fourth quarter as she dropped 25 points—a new career high.
The Lady Eagles propelled themselves to nine-point lead with four minutes remaining. They would be held scoreless the rest of the way as the Lady Falcons clawed back to tie the game at 75.
Macy Lozen hit a three-pointer in the corner with under ten seconds to play to give Friends the win. It was her only basket of the game. Former Caney Valley Lady Bullpup Makenzie Vining scored a game-high 30.
The Lady Eagles fall 78-75, dropping to 15-6 after just their second home loss all season.
On the men's side it was a blowout from the start. The Eagles avenged a gut-wrenching loss back on November 21 and beat the Falcons, 97-58.
Isaak Rowe provided the offense early as he scored 17 points in the first half. The Falcons had just 18 points as a team in the first half on four made field goals as the Eagles played stifling defense.
Freshman Jansen Leitzke had a career game with seven points and 13 rebounds. Leitzke had the crowd buzzing late in the first half after this two-handed jam.
The lead was 45-18 at halftime and OKWU was just getting started.
The outsides shots were flying in during the second half including four from the hands of Jake Feickert. He finished with 16 points.
OKWU limited the nation's top-scorer Jordan Murdock to just 13 points—his lowest output all season.
The Eagles are 15-6 on the year and have won four of their past five games since the calendar changed to 2018.
« Back to Sports