Sports » Latest News
OKWU basketball
Posted: Jan 08, 2019 3:35 PMUpdated: Jan 08, 2019 4:37 PM
OKWU Men Claim No. 1 Spot in Polls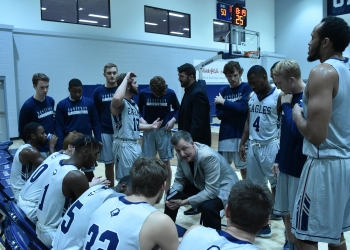 Despite dropping its first game of the season on Monday night the Oklahoma Wesleyan men's basketball team claimed the No. 1 ranking in latest update to NAIA Division II Coach's poll. OKWU received eight of twelve first-place votes.
The Eagles saw their undefeated start and twenty-game home winning streak go by the wayside in the 72-68 loss to Southwestern.
The Eagles started the season at No. 6 in the polls and jumped up to No. 3 in mid-December. This is the first time Since February 1, 2010 that the Eagles have claimed the top spot in the rankings.
OKWU will stay at No. 1 at least until the next rankings update on January 22. The Eagles are next in action on Thursday night with a Kansas Collegiate Athletic Conference battle against McPherson.
OKWU 17-1 on the season and 11-1 in KCAC play.
« Back to Sports