Sports » Latest News
OKWU basketball
Posted: Feb 09, 2018 9:25 PMUpdated: Feb 09, 2018 10:25 PM
OKWU Heads to Tabor for Doubleheader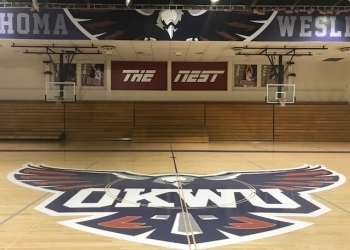 The Oklahoma Wesleyan men's team has a big opportunity on Saturday. The Eagles are just one game behind Southwestern College for first-place in the Kansas Collegiate Athletic Conference with three games remaining in the regular season.
Wesleyan is currently riding a four-game winning streak, while Southwestern has dropped four straight.
OKWU travels to play Tabor College, a team they defeated at home 93-to-78 back on January 3. Southwestern plays a talented Ottawa team on the road who they narrowly squeaked by the first time around.
Both teams are fighting for the regular season championship which guarantees the winner a spot in the NAIA tournament.
The Lady Eagles are currently fighting for second place as they are currently deadlocked with Bethany and St. Mary at 12-and-7 in the KCAC.
OKWU will try to get back on track after a tough home loss to Bethany in which they only shot 23% from the field. The Lady Eagles have only won two of their last five games.
This critical KCAC doubleheader will get underway at 5 o'clock and can be heard on 99.1 KPGM.
« Back to Sports