Sports » Latest News
OKWU Baseball
Posted: May 04, 2019 5:08 AMUpdated: May 04, 2019 6:17 AM
OKWU Beats McPherson in KCAC Tourney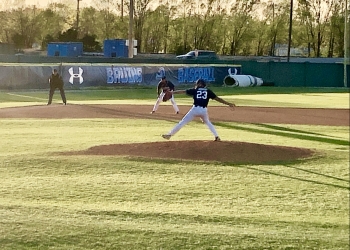 Oklahoma Wesleyan baseball continues to roll in the Kansas Collegiate Athletic Conference tournament. The Eagles took care of McPherson in their second game on Friday, 12-0.
OKWU offense exploded as it pounded out 13 hits in the victory. Drenis Ozuna and Austin Ely each had three hits to lead the team. The Eagles scored five runs in the second inning and the game was effectively over from there.
Tyson Cronin dominated on the mound as he threw the Eagles' second consecutive shutout in the tournament. Cronin pitched to contact as he needed just three strikeouts to shut down the Bulldogs.
OKWU awaits York College on Saturday afternoon. The Eagles need to just two wins to take home the KCAC tournament title for the second consecutive season. OKWU already knows it will be headed to the NAIA National Tournament after clinching the KCAC regular season title.
« Back to Sports