Sports » Latest News
OKWU Baseball
Posted: May 07, 2019 1:35 PMUpdated: May 07, 2019 2:35 PM
OKWU Baseball Confident Heading into National Tournament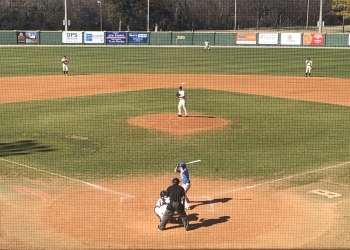 Oklahoma Wesleyan earned itself a sweep of the Kansas Collegiate Athletic Conference championships after winning the conference tournament on Saturday. The Eagles rode tremendous pitching performances to four straight victories putting the team's winning streak at 16 games heading into the national tournament.
OKWU head coach Kirk Kelley said he is pleased that the team is clicking with the most important part of the season on the way.
The Eagles will learn their seeding for the national tournament on Thursday. Regardless of where the team is headed they will play on Monday. Kelley estimates that OKWU will either be a No. 1 or a No. 2 seed when the regionals are announced. Although OKWU will play on the road regardless after not submitting a bid to host a regional.
The Eagles boast a tremendous resume for the postseason. Only six teams in the nation have more wins than the Eagles at 43. OKWU has been ranked in the top 13 all season long as well. The Eagles also are among the top teams in several offensive categories including runs per game and home runs per game.
We will have more on OKWU postseason baseball later this week.
« Back to Sports