Sports » Latest News
Oklahoma Union Football
Posted: Nov 19, 2020 5:27 PMUpdated: Nov 19, 2020 6:27 PM
OKU Hosts First Playoff Game Since 2014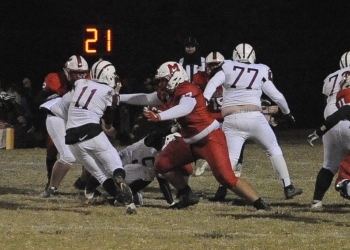 Oklahoma Union football is getting set host its first playoff game since 2004. Morrison will be the road despite going 8-1 on the year. The Cougars went 6-2 in a shortened regular season and were able to snag the No. 2 seed in Class A-5. This will be the third consecutive playoff appearance for OKU. Head coach Stephen Trammell says a win on Friday would check off another goal.
The Cougars have relied on a strong defense and potent ground attack to lead them to success in 2020. Senior Mason Pittman has been pivotal on both sides of the ball. Pittman was named district co-defensive player of the year earlier this week. The senior back also rushed for eight touchdowns in the regular season.
Pittman was a sophomore when a young Cougars team went to Morrison and lost 34-0 in the first round of the playoffs. Pittman talks about this year's matchup.
OKU has not won a playoff since the magical run in 2004. You can listen to exclusive coverage of Oklahoma Union football on KRIG 104.9 FM.
« Back to Sports