Sports » Latest News
Oklahoma Union Baseball
Posted: May 01, 2019 4:48 PMUpdated: May 01, 2019 5:49 PM
OKU Baseball Gearing up for Regionals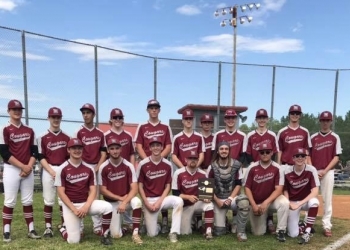 Oklahoma Union's incredible year in athletics continues as the baseball team makes a trip to Oktaha for regionals. The Cougars pulled off an upset over Caney Valley winning two of three ballgames in the district tournament. Sophomore pitcher Mason Seigel threw a two-hit shutout in game three to help the Cougars advance.
Oklahoma Union has had a curious season in 2019. The Cougars started their season late after a run to areas in basketball. Whacky weather also meant the cougars played 14 games in a stretch of 10 days at one point. After all this OKU holds a 9-15 record. The Cougars come into the regional as an underdog against No. 2 Oktaha.
Cougars head baseball coach Lee Ott says pitching will be key in such a tough matchup.
The Cougars boast great pitching depth as Ott says 14 different arms are capable of logging innings. Britten Epperson, Seigel and Jace Hollingshead make up the starting rotation. Senior Logan Key has been the anchor of the lineup with five home runs on the season.
Weather permitting, the Cougars will play Oktaha at 11 a.m. on Thursday. Stroud and Morrison are the other two teams in the double-elimination regional. We will have more updates on Cougar baseball throughout the postseason.
« Back to Sports