Sports » Latest News
Rodeo
Posted: Dec 14, 2018 9:32 AMUpdated: Dec 14, 2018 12:58 PM
Nowlin Awaits Surgery Options After NFR Collision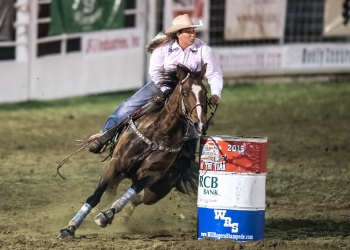 The going has been rough for Nowata resident Tracy Nowlin and her horse Dolly Jo at the National Finals Rodeo in Las Vegas, Nevada. On her Facebook page late last night, a friend named Rosie posted that Nowlin is thankful for her supporters.
At the National Finals Rodeo earlier this week, Nowlin and Dolly Jo hit a barrel in their barrel racing event. After that collision, Nowlin felt as if she couldn't physically ride Dolly Jo to the best of her ability.
Following an MRI on Thursday, it has been reported that Nowlin has minor tears in her rotator cuff and bicep. The MRI also revealed three bulging disks in her neck. She awaits surgery recommendations from Dr. Tandy Freeman of the Justin Sports Medicine Team at the NFR.
We'll have more on this story as it becomes available.
« Back to Sports