Sports » Latest News
Nowata Basketball
Posted: Feb 12, 2018 9:53 PMUpdated: Feb 12, 2018 10:53 PM
Nowata Topples Oklahoma Union on Senior Night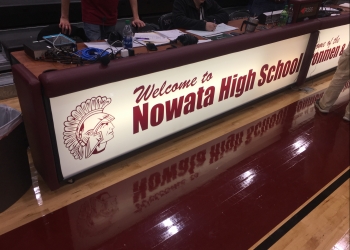 The Nowata Ironmen ended the regular season with a bang as earned a senior night victory over Oklahoma Union, 60-to-40. The eight Ironmen seniors were the only players to score in the victory.
The game started out at a snail's pace with Nowata holding the Cougars scoreless in the first five minutes but only scoring five points themselves. Oklahoma Union went on a run to take a 12-to-9 lead by the end of the opening quarter.
However, that would be the only time the Oklahoma Union offense hit its stride. The Ironmen defense was stifling all night long creating havoc for the Cougars offense. Nowata would storm out to an eleven-point lead by halftime.
By the third quarter the route was on.
Zach Brock was dialed in from beyond the arc as he knocked down five three-pointers for a game-high 17 points. Fellow-senior Zen Callahan joined him in double-figures on this trey that beat the third quarter buzzer.
The Ironmen would keep the lead at 20 and cruise to victory from there.
Although it was senior night Nowata will be back on its home court this Saturday for district playoffs. The Ironmen will play the winner of Caney Valley and Colcord at 8 o' clock.
« Back to Sports