Sports » Latest News
Nowata Basketball
Posted: Dec 03, 2019 9:42 PMUpdated: Dec 03, 2019 10:42 PM
Nowata Blows Out Hominy in Season Opener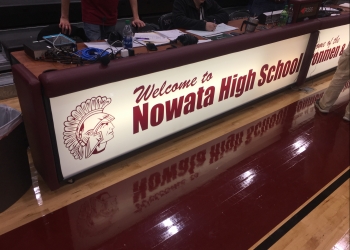 The Nowata Ironmen opened the season with a bang in a blowout victory over Hominy on Tuesday night, 81-46. The sharpshooting of junior guard Mark Price was on full display as the Ironmen lit it up against the Bucks.
Price got off to a great start with 10 points in the opening quarter. After trailing 4-0 the Ironmen would streak out on a 15-0 run that spanned a bulk of the opening quarter. Nowata wouldn't look back as it took a 35-17 lead into the locker room.
Price would really get going in the second half as he scored 20 points after the break. Price nailed six three-pointers on the game. This final one put him over 30 points on the night.
Gabe Velasco, Trenton Smith and Dillon Barnes also totaled double-figures in the season opening victory. The Lady Ironmen would drop their opener, 38-27. Both teams are back in action on Friday with a rivalry battle at Dewey.
« Back to Sports