Sports » Latest News
Sports
Posted: Jun 29, 2020 7:08 AMUpdated: Jun 29, 2020 8:08 AM
Nathan Hughes Wins City Title - Again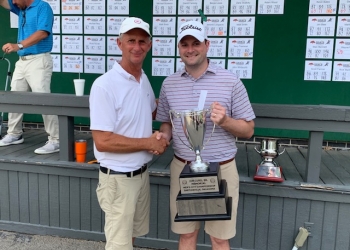 The 2020 Bartlesville City Golf Championship went to a familiar name, as Nathan Hughes won the tournament for the fifth time.
The former Bartlesville Bruin and UMKC golfer took home the crown after posting a two-day score of 146.
Hughes two-over 74 was the lowest score at Hillcrest Country Club yesterday, combined with his even-par 72 on Saturday at Adam's Golf Course was good enough to win it during a windy and dusty weekend.
The 2020 title was the most recent for Hughes since 2018. He has now won the titles in 2008, 2011, 2016, 2018 and 2020.
Hughes was a standout at Bartlesville High School, played two years at OU out of high school before transferring to UMKC, where he had an outstanding college career as a Kangaroo.
Hughes talks about his feelings after taking home his fifth city title.
Lynn Rowland took second place with 149. Spencer King and Joel Smith both shot 150, which was good for a tie for third.
« Back to Sports