Sports » Latest News
Golf
Posted: May 08, 2019 11:53 AMUpdated: May 08, 2019 12:53 PM
Lower Classification State Golf Results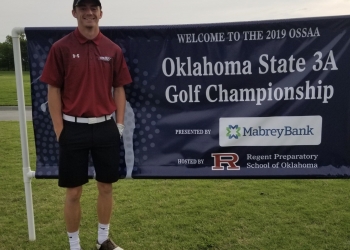 Dewey's Hayden Thornton finished 41st in the 3A state golf tournament. Thornton shot an overall 255 with a third round 86. This is Thornton's second consecutive state tournament appearance. The event was held at the Tulsa Country club. Thornton is only a junior.
In 2A state golf at the Trosper Golf Course in Oklahoma City Nowata placed 11th and Pawhuska took 12th. Nowata's Maddox Bullen shot three sub-80 rounds and took 10th overall. Alex Covarrubias took 47th with a 260, Mark and Luke Price as well as Cole Atkisson participated in the event as well.
Pawhuska's Ty Chinn, Colt Manning, Matt Miles, A.J. Solinao and Phil Kane also participated in the state event.
(PHOTO COURTESY: Dewey Golf/Twitter)
« Back to Sports