Sports » Latest News
Sports
Posted: Apr 23, 2019 7:06 AMUpdated: Apr 23, 2019 11:52 AM
Late Rally Not Enough for Bruins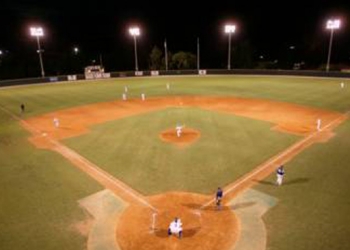 Bartlesville High baseball dropped game one of its two-game district set with Shawnee on Monday night, as a late comeback bid for the Bruins was too little too late.
The Wolves came into Bill Doenges Memorial Stadium and walked out with a 10-7 victory.
Shawnee had a 5-0 lead and later a 10-2 lead until a Bruin rally gave Bartlesville some hope in the bottom of the seventh. BHS would score five runs to make things interesting in its final at-bat. Braden Winters had the biggest hit of them all.
Following the Winter's single, KWON Intern Calvin Johnson would hit a line drive into right center field that was caught to end the rally, and the game for the Bruins.
Bartlesville is still trying to find some of its pitching depth prior to regionals, with Kirk Kauk earning his first district start last night, and Alan Covarrubias getting one inning of relief pitching.
Offensively, Harald Borg, Jakob Hall and Tanner Tate all had multiple hits.
Bartlesville drops to 15-15 on the year. The Bruins game at Shawnee shceduled for Tuesday night at Shawnee has been postponed until 5:00 PM on Wednesday.
Only four regular season games remain on the schedule for BHS. - KWON's next broadcast is scheduled for Thursday at home against Muskogee.
« Back to Sports