Sports » Latest News
OKWU Basketball
Posted: Nov 24, 2020 10:25 PMUpdated: Nov 24, 2020 11:25 PM
Lady Eagles Top Friends for First KCAC Win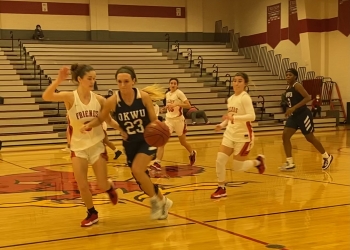 Oklahoma Wesleyan women's basketball earned a solid road victory at Friends University on Tuesday night, 65-48. The win snaps a three game losing streak and is the first Kansas Collegiate Athletic Conference victory for the Lady Eagles.
OKWU got off to a scalding start. The Lady Eagles went on a 12-4 run to open the game. OKWU led 34-18 at halftime. Friends shot just 21% from the field in the first half. The Lady Eagles knocked down six three's in the first half as well. Senior Hannah Nealis scored 10 of her game-high 15 points early on.
The Lady Eagles saw their lead cut down to nine in the third quarter when they got a bit careless with the ball. However, things turned around quickly in the fourth quarter and OKWU gained control of the game. Sharpshooting from junior Makayla Watkins helped down the stretch.
Danae Goodwin was also in double-figures for OKWU. This is the seventh time Goodwin has scored at least 10 points against Friends in seven career matchups. OKWU is now 2-4 overall and 1-3 in KCAC play.
« Back to Sports