Sports » Latest News
OKWU Basketball
Posted: Nov 23, 2020 2:36 PMUpdated: Nov 23, 2020 3:42 PM
Lady Eagles Look to Snap Losing Streak at Friends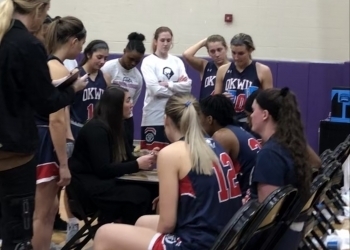 Oklahoma Wesleyan women's basketball will make the solo journey to Friends University in Wichita on Tuesday. The OKWU men's team is currently under quarantine and will not resume play until November 30.
The Lady Eagles dealt with a similar shutdown situation in late October and are still trying to get back to 100%. Because of the schedule shuffle OKWU has yet to play a home game. Tuesday's bout with the Lady Falcons will be the team's sixth straight road game to open the year. Lady Eagles head coach Grace Hadley says the turbulent nature of the schedule has changed how the team prepares.
OKWU is 1-4 on the year and has lost its last three game since restarting the season on Nov. 10. Hannah Nealis, Danae Goodwin and Makayla Watkins all average 10+ points per game for the Lady Eagles. Listen to radio coverage from Wichita at 6 p.m. on Tuesday on Sportstalk 99.1 FM KPGM.
« Back to Sports