Sports » Latest News
Nowata Basketball
Posted: Dec 05, 2017 10:33 PMUpdated: Dec 05, 2017 11:33 PM
Ironmen Championship Game Bound After Knocking Off OKU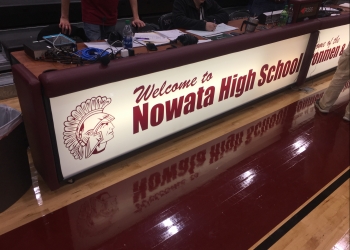 The Nowata Ironmen are championship game bound after a 59-44 victory over Oklahoma Union on Tuesday Night. It was hard-fought battle by both sides but Nowata was able to pull away late to get the win to advance to Saturday's championship game in the Ty Hewitt Memorial Tournament.
The Ironmen came out shooting bricks as they were held scoreless for the first four minutes of the game. However, Oklahoma Union didn't fare much better scoring just three points in that stretch.
Nowata held a 7-6 lead after the first quarter with their top-scorer Zen Callahan being shut out. Callahan came out firing away in the second quarter on the way to 12 points before the half including this jumper in the final seconds.
Even though he was in foul trouble for a large chunk of the game Callahan still tallied 25 points for the second straight night.
The Ironmen played tough interior defense yet again holding their third straight opponent under 50 points. Nowata now awaits the winner of Pool B with potentials opponents being Mannford, Chelsea or Tulsa CHEF in Saturday's championship game.
The Ironmen move to 4-1 on the season.
Unfortunately the Lady Ironmen didn't come out victorious against in their matchup with Oklahoma Union. The Cougars tough defense limited Nowata's offense, which struggled mightily in the second half. The Lady Ironmen fall to 3-2.
« Back to Sports