Sports » Latest News
Sports
Posted: Jul 27, 2020 7:10 AMUpdated: Jul 27, 2020 8:12 AM
Indians Wrap Up 2020 Season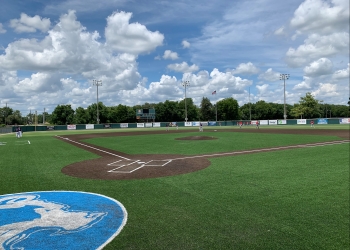 Baseball was back in Bartlesville - for 50 days, as the Doenges Ford Indians wrapped up a memorable 2020 campaign on Sunday with a split double-header.
In game one, Bartlesville blew out the Ada Braves 13-3, before falling in the later innings to Three Rivers, 8-1, in game two.
The Indians finish with a 22-25 record.
The blowout win over Ada in game one would be a final cathartic victory for the Tribe. All nine players in Bartlesville's lineup would reach base - eight of them would get base hits.
Bartlesville slugger Braden Winters would tack on another home run, his second consecutive game with an over-the-fence dinger, on this three run shot in the top of the third.
Winters had hit his first home run of the summer just 20-hours earlier - Saturday night, in Bartlesville's walk-off win against Three Rivers.
Nik Johnson again shined on the mound. The youngster threw four innings of two run baseball, and only gave up two hits against a mostly college lineup. Harald Borg came in to slam shut the door in the fifth.
In game two, the Indians would run out of steam. Bartlesville lead 1-0 into the sixth inning, when the Bandits would mount their comeback. Three Rivers scored four runs in the sixth and four runs in the seventh to win Bartlesville's season finale. The Indians did finally beat the Bandits a day prior, 5-4 on Saturday night.
---
The summer was an unmitigated success for the program. Amidst a pandemic after all the players had their spring seasons canceled, Bartlesville was able to play 47 games in about 50 days.
The Indians also helped a couple older guys get signed into colleges for this coming fall. Manager John Pannell speaks to that.
We will have more on recapping Indians baseball throughout the week.
« Back to Sports