Sports » Latest News
Sports
Posted: Jul 02, 2022 6:17 AMUpdated: Jul 02, 2022 7:40 AM
Indians Win Game on at Winget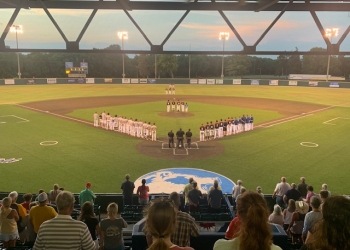 Day one of the 63rd annual Glen Winget Tournament is in the books.
The Doenges Ford Indians have started off strong, as Bartlesville got a one-run win in come-from-behind fashion against Springfield Kickapoo.
Indians topped Kickapoo 3-2.
Bartlesville trailed Springfield throughout in a pitchers dual, before the Tribe's bats came alive in the final two frames. Down 2-0, Bartlesville tied it on a couple base hits and a walk in the bottom of the fifth. Then in the sixth, the Indians would take the lead.
Two outs and two strikes to former Nowata Ironmen Jace Thompson, when he doubled home Luke Fox to give Bartlesville the eventual win.
Pitching and defense is what kept Bartlesville in the game early.
Alan Covarrubias allowed the two runs in four innings of work. Josh Weber threw a scoreless fifth. Then it was Daniel Barham who slammed the door shut. Barham allowed two baserunners, but no runs, in the final two innings to get the win.
Here is how the final out sounded on Friday evening on KWON.
With the win and only two runs allowed, the Indians are in good shape early to make the semifinals on Monday, but will need some more wins.
The Tribe takes on Fort Smith, Arkansas on Saturday in round two. Another scheduled 8:00 first pitch in a contest we will have for you on KWON – AM 1400, FM 93.3 and 95.1. You can watch the game on KWONTV.com.
There is free food at the ballgame on Saturday, fireworks following the Indian's contest. and former Bruin and current Oral Roberts star Jakob Hall is slated to pitch the game.
Finals on Friday:
Three Rivers topped the United Linen Braves 9-1.
Bryant, Arkansas got a win over Fort Smith, Arkansas 5-3.
Springfield Hillcrest topped Mountain Home, Arkansas 2-1.
Southern Elevation topped the Oklahoma Mudcats 7-2.
Saturday
10 Hillcrest v Southern Elevation
12:30 Mountain Home v Mudcats
3:00 Kickapoo v Braves
5:30 Bryant v 3 Rivers
8:00 Indians v Ft Smith

Sunday
10 Hillcrest v Mudcats
12:30 SE v MH
3:00 FS v Kickapoo
5:30 Bryant v Braves
8:00 Indians v 3 Rivers
« Back to Sports