Sports » Latest News
Sports
Posted: Jul 02, 2022 10:15 PMUpdated: Jul 02, 2022 11:25 PM
Indians Win Another One-Run Game in Winget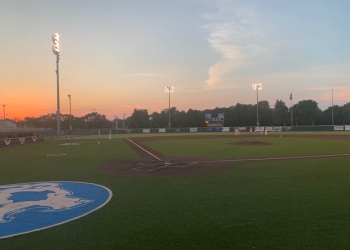 Another day, another one-run win for the Doenges Ford Indians in their own 4th of July Tournament.
Bartlesville outlasted Fort Smith, Arkansas 4-3 and improved to 2-0 in the 63rd Glen Winget Tournament on Saturday night.
A near-capacity crowd saw great pitching from Jakob Hall, Josh Weber and Matt Winters. The performances on the mound and more timely hitting propelled the Tribe to another one-run victory. There were four lead changes and three ties in the back-and-forth affair.
Bartlesville scored two runs in the bottom of the fifth off of base hits from Kaeden Young, Harrison Clark and Daniel Barham to take the lead for good.
This Clark double tied the game up at 3-3.
Then two batters later Barham would give the Tribe the lead for good with an opposite field single.
Pitching was the key. Bartlesville hurlers allowed only two hits on the night.
Winters gave the Indians their second great relief outing in the Winget - Two more scoreless innings to earn a six-out save. He struck out three and walked none. Weber was again effective for the second-straight night, allowing one earned run in two frames. Hall, the Oral Robert's righty, struck out seven in a three-inning start.
Young and Hayden Fiddler were the only two Indians with two hits. Bartlesville out-hit the Sportsmen 8-2.
The win moves the Indians to 2-0 in the Winget and 20-8-1 on the year. A win on Sunday would ensure the Tribe a berth into the tournament's semifinals on Monday. There are scenarios that give Bartlesville a berth with a loss, as well.
A scheduled 8:00 PM first pitch Sunday against the Three Rivers Bandits on KWON – AM 1400, FM 93.3 and 95.1. Video on KWONTV.com.
« Back to Sports