Sports » Latest News
Bartlesville Sports
Posted: Jul 12, 2017 12:00 AMUpdated: Jul 13, 2017 8:02 AM
Indians Split Double Header with Three Rivers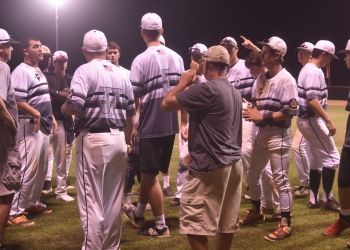 The Bartlesville Doenges Ford Indians snapped their seven game losing streak in Coweta, Oklahoma during their 4-2 win in game one of their double header versus the Three Rivers Bandits. The Indians, however, dropped game two 9-1, which ended in the fifth inning because of the run rule.
The pitching efforts from Bartlesville's Corey Murphy was spectacular in game one. Murphy pitched a full game, surrendering only two runs in the top of the seventh after a 2-RBI double by Braden Calico (3-3 in game one; three doubles) after the Indians reeled off 4 runs of their own in the top of the seventh. Indians short stop Nolan Schaper capped things off with an RBI double to give Bartlesville the 4-0 lead.
Murphy, who appeared to be gassed throughout the game, kept his composure even in tight situations. In doing so, he delivered an unforgettable effort to earn a much needed win for the Indians as he threw over 100 pitches. This effort included an incredible dive to snag a ball to throw Bailey Dorr out at first in the bottom of the fifth. Another ball was hit right to Murphy with the bases loaded that he caught, throwing Boone Lasater out at third who was in disbelief that Murphy made the catch.
Behind the dugout, teammates kept Murphy's head up as he sat down to catch his breath. Murphy sat in the shade and drank plenty of water to prevent heat exhaustion. What mattered most was fielding efforts from Murphy's teammates that got him through most of the innings.
A big double play turned things around in the second inning, and the defensive play of Schaper at short stop proved to be the turning point for the Indians in game one on top of Murphy's outing on the mound.
Game two was different as Three Rivers lacked no offense, scoring seven runs in the first three innings putting 20 batters up to face Indians pitcher Lukas Rieffors. Pitcher Evan Jacoby pitched a no-hitter through the five innings in game two of the double header against the Indians.
One run was scored in the first for the Bandits as Calico batted in the run on an RBI double, finishing with four doubles and three RBI's on the day. Two runs were scored in the second because of an RBI single by Tyson Fourkiller followed by an error leading to the 3-1 edge. And in the third, four runs were scored with a 3-RBI double by JT Goodfellow with the bases loaded followed by another Fourkiller RBI single. Fourkiller ended things in the bottom of the fifth, hitting a killer 2-RBI double forcing the run rule to claim the game two victory for the Bandits.
The Indians are now 1-6 when facing Three Rivers this season. They are now 16-17-1 on the season and will play the Ada A's next weekend.
« Back to Sports