Sports » Latest News
Sports
Posted: Jun 30, 2020 7:16 AMUpdated: Jun 30, 2020 8:16 AM
Indians Open Bill Doenges Stadium Tuesday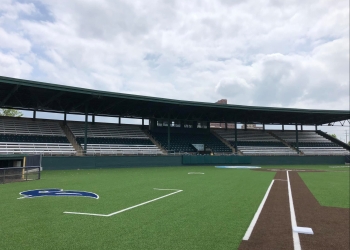 The Doenges Ford Indians are back in action on Tuesday night, as Bartlesville's summer baseball team will have its true home opener at Bill Doenges Memorial Stadium.
The Indians will play host to Pittsburg, Kansas for a couple of games. Tuesday's double-header will serve as a dry-run for the organization to get ready for the 61st annual Glen Winget Memorial Tournament, which starts on Thursday.
Indians manager John Pannell says he is ecstatic to open up Doenges.
Tuesday's double-header will mostly be for the younger Indians. Because the United Linen Braves season had to be nixed, Pannell wanted a night to play some of the guys who have not gotten many at bats this summer.
Bartlesville crossed over the midway point of the 2020 season this past weekend, and stands at 10-14 on the summer.
There have been many highlights thus far, but it is hard to find a better one than the hitting performance of Andrew Harden.
The former Bruin came back from his freshman year at OU and is tearing the cover off the ball. Harden is the only one of Bartlesville's college guys who did not play college baseball during his freshman year, yet he is hitting .448 with 26 hits and five doubles thus far.
Pannell says he has been in awe of Harden's swing this summer.
First pitch against Pittsburg at 6:00 PM.
Because of election coverage, the Indians will play on Sports Talk 1500 AM and 99.1 FM – KPGM. You can also watch the games on KWONTV.com.
« Back to Sports