Sports » Latest News
Nowata Football
Posted: May 14, 2018 4:51 PMUpdated: May 14, 2018 5:52 PM
Improved Numbers Will Help Ironmen in 2018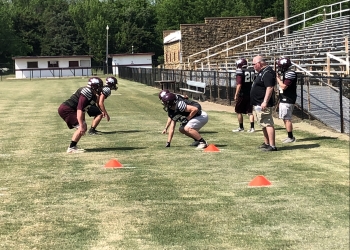 As we continue our look at spring football across the area today we look into the Nowata Ironmen. Nowata is a team coming off a 0-10 season and looking to build a successful program from the ground up.
The Ironmen will be going to their first full offseason under head coach Bob Craig who coached the team for the final eight weeks of last season. As the year went on quarterback Skylar Thornton progressed as a passer and showed a better feel for the offense. Coach Craig thinks consistency up front will lead to even more improved play.
It's no secret that many of the Ironmen's issues in 2017 stemmed from the lack of numbers last season. The roster right now sits in low 30s. Coach Craig thinks this will allow Nowata to have better quality practices.
The Ironmen will continue practices leading up to this year's team camp in Pawhuska on May 23-25. We'll have more Nowata and other areas schools in the coming days.
« Back to Sports