Sports » Latest News
Sports
Posted: Apr 14, 2017 8:09 AMUpdated: Apr 14, 2017 9:09 AM
Fourth Straight W For Bruin Baseball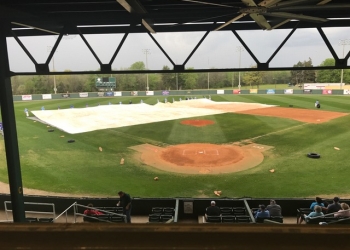 The Bartlesville high baseball team won its fourth game in a row Thursday evening against Moore.
The Bruins topped the Lions 7-3 at Bill Doenges Memorial Stadium. It was supposed to be a double-header but rain delayed the start of the first game one hour and 45 minutes, and it ended up canceling the second game. Rain moved into the Bartlesville area around 8:30 PM and made the second game impossible to play.
The Bruins trailed Moore 3-0 before Bartlesville tied the game in the bottom of the fourth. The BHS rally started with an RBI off an AJ Archambo triple.
Bartlesville won its third district game of the season, all in the same week. Zach Snow was brilliant on the mound. The lefty starter threw six innings, gave up no earned runs and struck out seven.
The Bruins improve to 8-11-1 on the season. BHS is off until Monday when Sand Springs comes to Bill Doenges Memorial Stadium for the first of a two-game district series.
The second game against Moore may be made up if it will factor in the district standings.
« Back to Sports