Sports » Latest News
OKWU Soccer
Posted: Jul 29, 2021 4:06 PMUpdated: Jul 29, 2021 5:06 PM
Former OKWU Soccer Stars Playing in Pros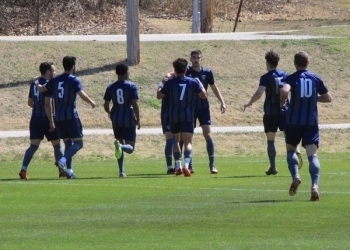 Two former Oklahoma Wesleyan men's soccer stars just wrapped up their first professional season for Corpus Christi FC. Stefan Cvetanovic and Stefan Lukic—two of the most successful players in OKWU men's soccer history each got a few appearances for United Soccer League 2 club.
Lukic scored three goals in two appearances for CCFC this summer. Lukic was a NAIA All-American first team selection last season for the Eagles. Lukic was a key cog on the OKWU team that finished as national runner's up this past year. Lukic scored 50 goals in his OKWU career. The Serbian-native had previously been courted as a youth academy player by Everton in the English Premier League.
Stefan Cvetanovic also got a brief look for Corpus Christi. The fellow Serbian found the net once in two games. Cvetanovic was a three-time KCAC Player of the Year during his time at OKWU.
Corpus Christi FC was a playoff team last season. They compete in what is considered the third-tier of soccer in the United States.
« Back to Sports